I'm telling you early: it's time to start thinking about your Christmas cards. Do you write out a newsletter? Write a personal note to each family? Send a photo card? We're photo card people, but I do enjoy receiving all kinds of Christmas cards.
Last year I didn't think about sending Christmas cards until we started to receive others' cards in the mail. I promptly dressed Joey in a holiday dress, rushed her out for photographs, and then designed our cards online. They were delivered pretty quickly, even considering that I didn't opt for express shipping or anything like that. They were delivered to the recipients just
barely
before Christmas. This year I plan to be
much
more organized.
Using a service such as Shutterfly for
Christmas cards
has proven to be the easiest route for us. Their personalization process is very user-friendly, even allowing you to edit your photo on their site. And if you have photos already saved on Shutterfly, you can use those for your holiday cards. Their easy search feature allows you to narrow down card designs based on the number of photos, card size, price, etc. Or just sort the designs by the most popular. To make the whole Christmas card process easier, Shutterfly will even stamp, address, and mail your holiday cards for you.
Here are some of my favorite designs:
All Wrapped Up
: I prefer designs that are simple and modern. If you're sending a photo card, you want the focus to be on the photo(s), right? This one-photo design fits the bill.
Color Me Merry Christmas
: I love this playful, colorful design.
Holiday Lights
: Again, playful and colorful. It's cute, but not cheesy.
Love 2010
: Figure out what was so great about 2010 and list your reasons on the card. What a fun way to incorporate newsy stuff into your photo card! This design incorporates two photos.
Love Peace Joy
: This one includes three photos in a not-cluttered simple design.
Sweet Stocking
: This four-photo layout is great if you have more than one kid, or you can't choose just one picture. Having one super-cute two-year-old, I know that choosing just one picture is pretty tough.
While you're at Shutterfly, check out their personalized
gift tags
. And if you're hosting a holiday soiree, look at their
party invitations
.
I have critiqued Shutterfly's holiday 2010 cards in exchange for 50 free holiday cards. So that means that only 50 of you will get Christmas cards from us. If you are interested in getting your own free cards, click
here
for more information.
Update: It's the 12th of November and I've ordered my cards! I am
on top of things
this year!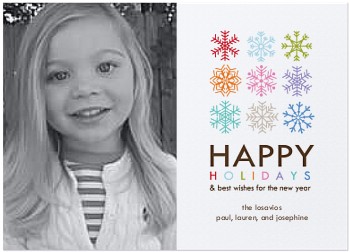 Stylish Snowflakes White Christmas Card